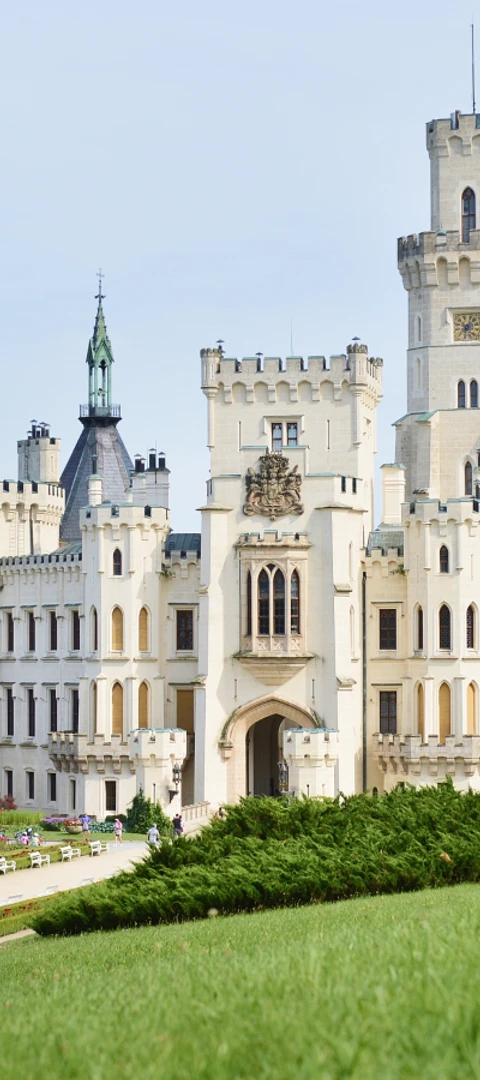 Hluboká castle
An early gothic castle dated from the second half of the 13th century used to be in the place, where we can find the Hluboká Castle today. At the request of the Prince Adam Francis, it was rebuilt into the present Baroque form in the early 18th century.

In the 2nd third of the 19th century, the then owners, Prince Jan Adolf II with his wife Eleonor, decided to rebuild the castle Hluboká again, this time into the romantic form. The project was drawn up by the architect Franz Beer, who also organised the whole reconstruction for 20 years. All the old buildings were demolished and a picturesque castle in the Tudor Gothic style was built instead.

Hluboká Castle is one of the most beautiful castles in Bohemia. Ceremonial rooms on the 1st floor are decorated with fine wood, rich carving and carpentry decorations. When visiting the castle, you can feel the atmosphere and the lifestyle of that time.

You can see rare pieces of furniture, Chinese vases from the 18th century, portraits of the Schwarzenberg family, valuable set of tapestries woven in Brussels in the first half of the 17th century. The most unique part of the castle is a hall with a library, where you can admire the coffered ceiling, which was brought to Hluboká from the family castle of Schwarzenberg.

In addition, there is a well equipped armory, a beautiful neo-Gothic chapel with an altar at Hluboká and you can have a look into the original kitchen of that time.
In the former riding school belonging to the castle, there is the Aleš South Bohemian Art Gallery - here you can find an exposition of gothic of paintings and sculptures. You can admire the beauty of Dutch and Flemish painting from the 17th and 18 centuries and in the main hall, htere are exhibitions, which change during the year.

Once youhave finished exploring the castle, definitely do not miss a walk through the castle park, which is designed in the English style.

Fans of castles and chateaux will certainly appreciate the beauty of this one in the Winds style. When visiting Hluboká, be sure not to miss the nearby ZOO Ohrada, you and your children will certainly like it. For longer stays in Hluboká nad Vltavou, we can offer accommodation at our hotel, which is located close to the castle, and where both children and adults can have a lot of fun.

Guided castle tours:
ceremionial rooms
private suites
kitchen
park
tower
You can visit the castle from April to August, and there are also new visiting days in the winter months. Specific days and opening hours can be found on the castle's official website.